James E. Andrews Jr., D.O.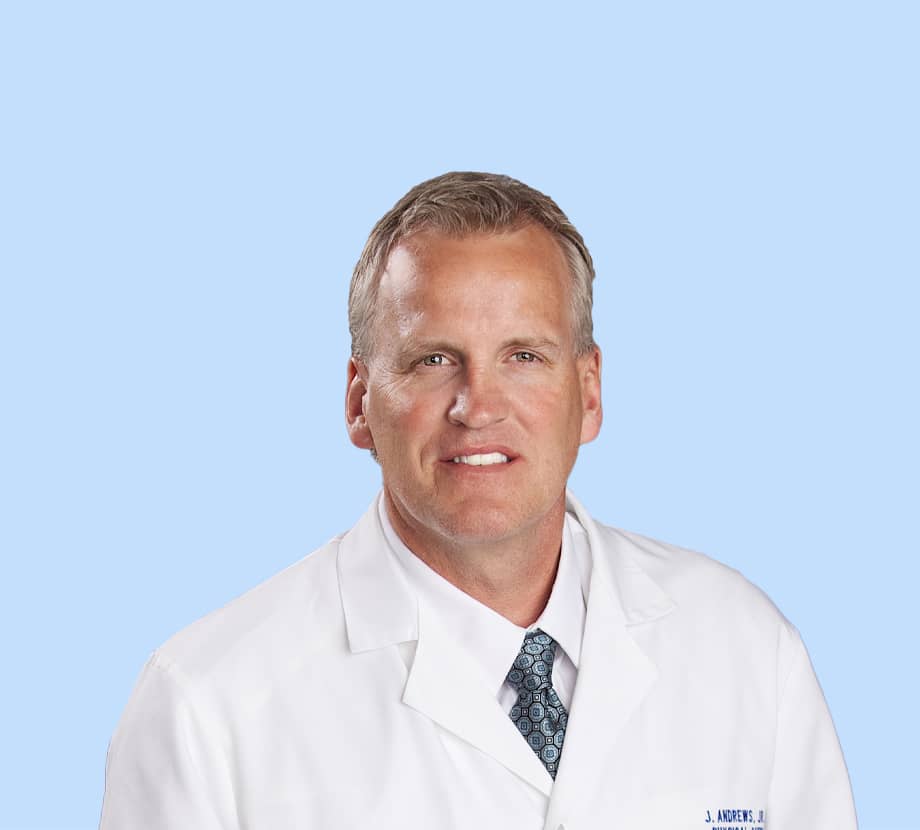 Locations
111 17th Avenue East
Suite 101
Alexandria, MN 56308
United States

2609 Cenex Drive
Suite 108
Fergus Falls, MN 56537
United States

415 Jefferson Street North
Wadena, MN 56482
United States
Specialties
Therapeutic Neuromuscular Care
"Therapeutic neuromuscular care encompasses many aspects of the neurological and musculoskeletal systems. I am excited to bring this unique specialty to Heartland Orthopedic Specialists."
As a therapeutic neuromuscular specialist, Dr. James Andrews provides nonsurgical care focused on improving his patients' muscular function and minimizing their functional pain. Through a variety of alternative interventions, including physical therapy and injection therapy, he is able to provide his patients with a thorough and accurate diagnosis and specialized treatment plan.
Dr. Andrews received his medical education at Des Moines University in Iowa before completing an internship in osteopathic medicine at Nova Southeastern University College of Osteopathic Medicine in Largo, Florida. He then completed residency training in physical medicine and rehabilitation at Baylor College of Medicine in Houston, Texas.
Dr. Andrews chose to focus his practice on physical medicine and rehabilitation because of his interest in both the musculoskeletal and neurological systems. He enjoys the variety of patients he sees and the different procedures he is able to perform. He is happiest when he is able to help his patients reduce their pain and return to their active lifestyles.
As a member of the American Academy of Physical Medicine and Rehabilitation and with ongoing training, Dr. Andrews constantly strives to offer the latest in therapeutic neuromuscular care to his patients. When he is not in clinic, Dr. Andrews enjoys spending time with his wife and their three energetic children, who keep them running all over the state to hockey and basketball games. Together, they also enjoy spending time at the lakes, fishing, and being outdoors.
Dr. Andrews is available to see patients at Heartland Orthopedic Specialists in Alexandria, Fergus Falls, and Wadena.
---
Education & Training
Medical Degree: Doctorate of Osteopathy, Des Moines University, Des Moines, IA
Internship: Osteopathic Medicine, Nova Southeastern College of Osteopathic Medicine, Largo, FL
Residency: Physical Medicine and Rehabilitation, Baylor College of Medicine, Houston, TX
Board Certification: American Academy of Physical Medicine and Rehabilitation
---
Professional Affiliations
Resident Member, American Academy of Physical Medicine and Rehabilitation
Member, Minnesota Medical Association
---
Special Interests
Spinal Injections, Including:


Lumbar Facet Joint Blocks
Radiofrequency Ablation
Spinal Cord Stimulator Trials
Electrodiagnostic Studies
Joint Injections
Botulinum Toxin Injections
---
Publications/Presentations
Published author in Clinical Orthopaedics and Related Research, July 2008
Published author in Atlas of the Hand Clinics, 2006
Podium presenter at the American Academy of Orthopaedic Surgeons "Survivorship of UKA Revisions in a Community Joint Registry," 2008
---
Honors & Awards
Chief Resident, Baylor College of Medicine/The University of Texas – Houston Departments of Physical Medicine and Rehabilitation Alliance, 1998
Krusen Award for Best Resident Presentation: Unexpected Lower Limb Musculoskeletal Findings in an Ambulatory Post-Stroke Population, The Texas PM&R Society, 1998
Second place, Resident Research Presentation, Lewis A. Levitt Memorial Lectureship, Unexpected Lower Limb Musculoskeletal Findings in an Ambulatory Post-Stroke Population, 1998
Honors Scholarship, annually for four years, Eckerd College, 1986 – 1990