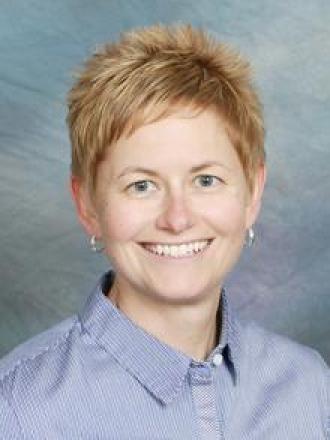 ---
Jodi graduated from Gustavus Adolphus College in 1998 with a Bachelor of Arts Degree in Athletic Training and a Bachelor of Arts Degree in Health Fitness. In 1999, she joined our staff as an Athletic Trainer and provided rehab to patients in the mornings and Athletic Training coverage to Osakis and Sauk Centre High Schools in the afternoon/evenings. In 2003, Jodi earned the Certified Strength and Conditioning Specialist (CSCS) credential and helped develop and coordinate the Athletic Enhancement Program (now called PEAK Performance) which is specifically designed with the goal of decreasing risk of injury and increase athletic performance. As an American Red Cross Instructor, she taught Sports Safety Training to high school students interested in becoming Sports Medicine Assistants.
Jodi left our staff in 2007 when her husband was offered a job in New Jersey. While in New Jersey, she was the Assistant Athletic Trainer at Georgian Court University. She provided Athletic Training coverage to Division II women's athletic teams specifically providing coverage for the Women's Volleyball, Basketball, and Softball Teams.
In 2009, Jodi and her husband moved to Dubai, United Arab Emirates after he received a job opportunity to work for an oil company. While in Dubai, Jodi worked for MTM Powersports as a Sales Executive and Marketing Manager for Sea-Doo watercraft and boats, Can-Am Spyder, ATV's and side by side vehicles. Jodi and her husband were able to do some world traveling to places like London, Thailand, Prague, and Sri Lanka.
Jodi has now rejoined our staff in 2016. In the clinic, she serves as a physician extender to Dr. Sticha and Dr. Weigel. Her clinic duties include casting, brace fitting, wound care, suture and staple removal and pre and post-operative patient education. She also provides sports medicine coverage at local high school sporting events.
Jodi enjoys spending time with her adopted Dubai desert dogs that now live here in Minnesota. She also enjoys the outdoors by riding snowmobile, motorcycle, Sea-Doo, camping and just about any kind of sport or outdoor activity you can think of. Her favorite sporting events to watch are the Olympics and professional football. Her favorite team is the Minnesota Vikings.