Heartland Orthopedic Specialists Celebrates 15 Years in Willmar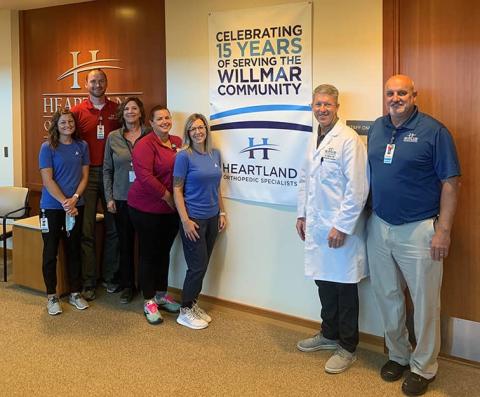 In July, Heartland Orthopedic Specialists celebrated 15 years of service in the Willmar community. Patients in need of specialized bone, joint and muscle care are encouraged to call (320) 214-7355 to be seen in Willmar at 2800 1st St. S., Suite 220.
Serving West Central Minnesota since 1974, Heartland Orthopedic Specialists was founded by Dr. David Larson to provide state-of-the-art medical and surgical treatment for bone, joint and muscle conditions to Alexandria and surrounding communities. To better serve the region, Heartland Orthopedic Specialists expanded to Willmar with the establishment of their new clinic in 2007. Today, the practice continues to offer specialized care to residents of Willmar and surrounding areas.
Offering evidence-based treatments and patient-focused care plans, Heartland Orthopedic Specialists in Willmar gives area patients access to the following advanced specialists:
Eric W. Nelson, M.D., a board-certified orthopedic surgeon specializing in sports medicine and general orthopedics.
Emily J.M. Monroe, M.D., a board-certified, fellowship-trained orthopedic sports medicine specialist.
Russell S. Sticha, D.P.M., a board-certified podiatrist specializing in surgical and nonsurgical treatment for the foot and ankle.
James H. Nelson, M.D., an orthopedic surgeon specializing in total joint replacements and general orthopedics who is joining the Practice this September
"We are proud to be part of the Willmar community, and we are committed to delivering the exceptional care our patients deserve," said Matt Reinertson, L.A.T., clinical services manager for Heartland Orthopedic Specialists in Willmar. "We look forward to our future and helping our friends and neighbors in Willmar and the surrounding communities live without limits."
To learn more about Heartland Orthopedic Specialists or to schedule an appointment, please call (800) 762-1177.